Thursday, September 25, 2008
Ringling Brothers

I seem to be running behind in posting lately but 2 weeks ago we went to the circus. I have to say, I was not all that impressed. I guess it is more impressive when you are a child however my 2 girls are not normal because they both got a little bored of the whole circus too. It was pretty funny though, they people attending the circus were more entertaining than the circus itself. We had this lovely mother of 2 sitting behind us that was getting angry every time she had to stand up to let someone walk by her in the row now you would think that this annoyance came from maybe several people constantly going back and forth but no, she was just a jerk. This poor mom had to squeeze by her to take her child to the bathroom and the lady got mad, she got mad because a child had to get by to use the restroom, obviously the circus was not the place for this controlling, complaining, no patience having mother. During intermission Sydney decided she wanted to sit next to Vince so Sydney and I traded spots, during intermission I remind you and the lady had the nerve to say, "there went my kids view" well I may be a little overweight but last time I checked I was not 6 feet tall so I think your kid will still be able to see the show just fine and if you are that worried about it lady you should have splurged for the front row seats and then no one would be blocking your view. So anyways, she was a real treat I'll tell ya. The elephants were really cute and the tigers were HUGE!!! I think aside from the elephants our favorite part was watching the 7 guys on motorcycles drive inside a sphere without crashing, I have no idea how they do that but it's pretty cool, well as long as they don't crash. So that's about it when it comes to the circus.

I did finally have my appointment with my Stanford doctor this week to discuss the results of the CT scan I had 6 weeks ago and he agrees with my UC Davis Dr. in that he is not totally convinced the current treatment has stopped working either so I was happy to hear he agreed and I will have my next scan in a week and a half and then we will know for sure. So keeping those fingers crossed that things are still looking good and I don't have to switch treatments quite yet.

Welcome to our blog. We are an average family of 4 dealing with life's struggles and living one day at a time. Thanks for visiting!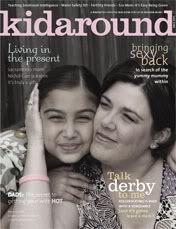 Breast Cancer Site
Cheeky Jewelry
Kevin Russell
Komen.org
Norcal Beagles