Thursday, October 02, 2008

Sydney and Shelby Stuff

Sydney showing off her award



At the Pumpkin patch, the cutest Bermese Mountain Dog pup ever! I want one!



Sydney with her pumpkin



Hay rides are fun!



Well the girls are wrapping up their first trimester at school and so far things have been going great. Shelby is on a roll again with 5th grade receiving straight A's on her first report card. This achievement placed her on the Principal's Honor Roll as well as the District Honor Roll. In addittion to that both girls received perfect attendance awards for not missing a day of school yet. While we are on the awards topic, this trimester Shelby was awarded a character award for organization and Sydney was awarded a character award for honesty. So as you can tell, we are very proud of both of them. They will be going "off track" for a month and that will give them time to refresh their minds and relax a bit.

Today we went on a field trip with Sydney's class to our favorite pumpkin patch. All the kids had so much fun seeing all the animals and picking out their very special pumpkins.

That what we have been up to but I will leave you with one of Sydney's "funny stories"....Last week in the car completely out of the blue Sydney says, "Mommy, when I get big can I say bad words?" Shelby and I laughed and then I asked her, "Why would you want to do that?" and her reply, "Well if I do something bad"...So I guess my 5 year old is looking forward to getting big so she can swear, what a goal to have....Haaaa...

Welcome to our blog. We are an average family of 4 dealing with life's struggles and living one day at a time. Thanks for visiting!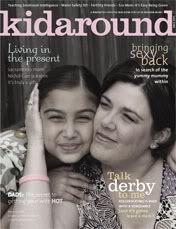 Breast Cancer Site
Cheeky Jewelry
Kevin Russell
Komen.org
Norcal Beagles