Friday, July 21, 2006
She's a Con Artist
I told her to smile
I told her not to smile




As you know we have been working to potty train Sydney. We have had our good days and bad. On the bad days if she has an accident I tell her she is going to have to run around "with her booty" which means without her chonies on. Well, she originally did not like this idea so it helped convince her that she needed to let us know if she needed to go potty. I always thought she was a bright child but she is now using child psychology on me. If she "goes" in her chonies she now tells me she WANTS to run around with her booty. Uhhhhh, so much for that tactic. On to the next idea for getting her potty trained, wish us luck.

Welcome to our blog. We are an average family of 4 dealing with life's struggles and living one day at a time. Thanks for visiting!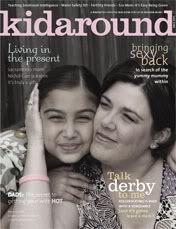 Breast Cancer Site
Cheeky Jewelry
Kevin Russell
Komen.org
Norcal Beagles