Tuesday, September 18, 2007

She'll Always Be My Baby

Happy Birthday to Sydney


Blow Out The Candles


The Cake I made for Sydney



















I can hardly believe it, my baby turned 4 years old. I just can not believe it has been 4 years, wow....I know that is such a parent thing to say but it's true, these last 4 years flew by. We had a party for her with lots of family and friends and I think everyone had a great time. Sydney is just as funny as ever. Today we had to go to the store but before we left she decided she wanted to put some of her play "makeup" on that she got, well after she was done applying it herself she looked like a character from a Cirque De Soleil show. I told her we would need to wash it off before leaving the house and she said, "Nooooo mommy, I need to be beautiful" so I told her, "You are already beautiful without makeup" and she said, "nooo mommy, I am plain" Uhhhhhh.....Can't wait for the day when I have to have the real makeup conversation with her.

As far as things with me, well I had my CT scan last week and I am happy to report once again that things are still shrinking and lookng better. The lesions on my liver are not completely gone however they do continue to get smaller so I am very happy about that. I am finding that I am more tired but I think that is just a result of being on chemo for the past 7-8 months. So here's hoping and praying for continued good results.

That's about it for now.

Welcome to our blog. We are an average family of 4 dealing with life's struggles and living one day at a time. Thanks for visiting!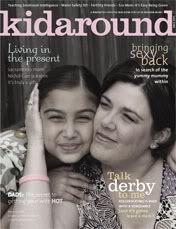 Breast Cancer Site
Cheeky Jewelry
Kevin Russell
Komen.org
Norcal Beagles