Wednesday, August 29, 2007

A little Bit of Everything

So 1 week ago today the girls, my mom, and I headed to the California State Fair. Our mission = See DAUGHTRY LIVE!! Well before the "grand finale" of the day aka the Daughtry concert we walked around and visited my favorite part of the fair, the livestock area. Every year I torment my fellow fair goers by making them wait around with me to see a baby calf or piglet be born and every year we wait and wait and NOTHING!!! Well this year the fair was much different. First off, we walk over to the livestock nursery and I notice a large crowd near the Farmers Market area (which was just across the way from the livestock) So I say to my mom, "geez, what's the big crowd about, is everyone here buying fresh fruit and veggies" We had no idea why so many people were gathered there. So we proceed to look at a 2 day old calf and as I am looking at this cute animal I suddenly see a TV camera come around in front of me and then a large group of people (that same group that was over by the Farmer's Market), I turn around and say, "What's going on?" and I look and who is walking right up behind me but our very own Govenor, Arnold Schwarzenegger...I was so caught off guard I literally said, "Ohhhh, it's Arnold" (yes, apparently we are on a first name basis). He replies, "Hello, how are you?" and then proceeds to stand right next to me and admires the calf. That was crazy and unexpected. Next, we go over to the piglets and I get to hold a 6 day old piggy, so cute!!! I only held it for a few seconds, I didn't want to smell like livestock just in case I bumped into Mr. Daughtry himself. Haaaa...We move along and about 45 minutes later Shelby is bugging me to go back and look at the pregnant cows, now she has the "itch" to see a calf being born. So now I have a partner in this, yeahhh....We head back to the cows and what do you know, there on the stage is a cow giving birth. We watch this process (I will spare you of the very gross details) and then we find out that this cow is having twins....Crazy!!! We didn't have time to stick around for the second one to be born as we had to get to the concert.

Now on to the best part of the day, the Daughtry concert. When Chris came out singing and the crowd went wild, Shelby was hootin and hollerin for Daughtry. The nice people behind us said it would be ok if she wanted to stand on her chair so she could see Chris sing so she did and she LOVED it. My mom and Sydney were able to get these special wristbands that guaranteed them a seat in one of the rows further back from Shelby and I. I guess Sydney was up on her seat hootin and hollerin too. My mom said the people around them were getting a big kick out of her. As usual, Daughtry put on an amazing show and I left that night thinking, where and when can I see them again sooooo.....I decided to buy tickets for the Fresno show. That show is going to be my birthday gift (to self) and I will be taking my niece with me for her birthday as well. I CAN'T WAIT!!!! Another Daughtry concert to look forward to. I don't think I will ever get tired of this band. So my goal between now and October 4th is to get a new digital camera so I can get some decent pics of Chris and the rest of Daughtry. I think I am officially a Daughtry groupie now......

Welcome to our blog. We are an average family of 4 dealing with life's struggles and living one day at a time. Thanks for visiting!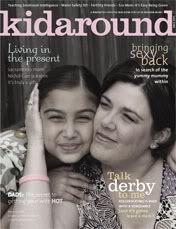 Breast Cancer Site
Cheeky Jewelry
Kevin Russell
Komen.org
Norcal Beagles