Thursday, January 03, 2008

Reflections of 2007

Well all in all 2007 was a pretty good year packed with many memorable moments and experiences. Here is a little recap of what we were up to last year.

The Good =
1. My very first DAUGHTRY concert in February.
2. Meeting the man himself and getting pictures with him also in February. Probably ranks as the best moment of the year!!!!
3. Flying to Tucson with my sis to see another DAUGHTRY concert, another February event. February was a very good month for me.
4. My treatment worked for most of the year and kept things from progressing for 10 months.
5. Shelby did and continues to do a wonderful job in school.
6. Sydney continues to love her preschool.
7. I made my debut in a local Sacramento magazine and Shelby and I were on the cover. More importantly, I was able to share my story with others in hopes that it will help someone facing what I have been faced with the past 2 years.
8. We added another pet to the family who has turned out to be quite a love.
9. The Boobie Troopers walked again and raised over $4,000 in support of finding a cure for breast cancer.
10. My grandpa from Oklahoma came to visit for a few weeks, it was so nice having him here.
11. I saw DAUGHTRY for the 3rd time in concert at the State Fair with Shelby, Sydney and my mother.
12. Vince was united with his family that he never knew and they have been so accepting of us!
13. Shelby and I got to go see Justin Timberlake in concert which was pretty amazing.
14. Another DAUGHTRY concert (4th to be exact), with my niece this time in celebration of our birthdays.

The Bad
1. Vince lost his job and has been working for a company in the Bay Area. (bad that he lost his job but good that he found another fairly quick)
2. We tried to sell our house but the market is so bad that so far, we have not been able to sell.
3. Sydney went on a 2 week eating strike and refused to eat solid foods, that was no fun at all!
4. I lost my beloved grandmother, she is missed everyday!
5. I found out the treatment I have been on for 10 months is no longer working.

The Ugly or should I say Scary
1. Shelby entered 4th grade. Gulp where is the time going?
2. My niece graduated from 8th grade and entered highschool, I feel old!!
3. My feet and hands have been pretty ugly all year with the hand and foot syndrome I experienced with the treatment I was on most of the year.

As you can see, the good far out weighed the bad so I guess despite all I will have to say 2007 was all in all a good year. I got to see lots of live DAUGHTRY, spend lots of time with my family and friends and best of all I am still feeling good and ready for 2008. Here's hoping it's also filled with lots of DAUGHTRY concerts and goods news and maybe even a cure!

Welcome to our blog. We are an average family of 4 dealing with life's struggles and living one day at a time. Thanks for visiting!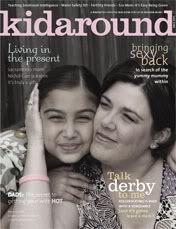 Breast Cancer Site
Cheeky Jewelry
Kevin Russell
Komen.org
Norcal Beagles