Wednesday, November 29, 2006
Picasso and Perms


So I guess it's time to put a positive spin on the blog since the last post was a little negative. Sydney is still enjoying preschool, I am posting a few pics of her art projects, I think we have the next up and coming Picasso on our hands. She got a complement from her teacher yesterday. The teacher said she was very proud of Sydney because she "used her polite words" yesterday. I asked Sydney what she said and she told me that another kid asked "Can I play with that" and Sydney responded "no thank you I'm taking my turn". This made me laugh, no thank you as if they offered her a cookie or something. Too funny!





On another note, I got a perm....No, not really but it looks like I did! I can't believe how curly my hair is now. I used to have hair that wouldn't even hold curl and now I can't get it to straighten out. I am posting a few pics for those of you that know how straight my hair was, you are not going to believe how curly it is now. Hopefully it will relax a bit as it grows longer because I am having some major difficulty styling it!

Welcome to our blog. We are an average family of 4 dealing with life's struggles and living one day at a time. Thanks for visiting!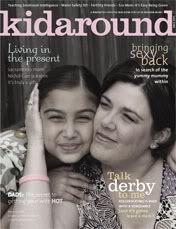 Breast Cancer Site
Cheeky Jewelry
Kevin Russell
Komen.org
Norcal Beagles