Thursday, March 22, 2007

I Can Deal With The Side Effects

I had a CT scan on Monday to see if the new treatment

regimen

I have been on for the past 6 weeks is working. Drum roll please!!!! The results of the CT scan show shrinkage in tumors in all areas!!!

YIPPEEEEEE

!!! So this treatment has some bad side effects that I have experienced such as burning hands and feet and now blisters bigger then silver dollar size on the bottoms of my feet (not attractive but whose looking at the bottom of my feet anyways). The way I see it, if this

treatment

is working then I can deal with the side effects. So, this is very good news for me. As most of you know, the only time anything has

shrunk

was several months ago and it was just one spot on my liver that reduced in size very slightly, but this time they have said all the spots on the liver have shrunk and specifically the largest one shrunk by 1.5cm as well as the spots on my spine. I am so very pleased. The next big news I am looking for is to hear my "butt" has shrunk since Sydney said to me last week, "Mommy, your butt is getting pudgy"....I cracked up. I can't believe she is just noticing that now, I mean it has always been pudgy, I suppose maybe now it is just at eye level for her...Haaaaa...Gotta love the honesty. So I am going to celebrate this good news and thank everyone for all the support, prayers, well wishes, etc....you are all helping me

pull

though this and lets keep up the positive thinking and hope for these great results again in 6 weeks.

Welcome to our blog. We are an average family of 4 dealing with life's struggles and living one day at a time. Thanks for visiting!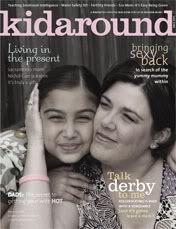 Breast Cancer Site
Cheeky Jewelry
Kevin Russell
Komen.org
Norcal Beagles