Thursday, May 03, 2007

Our Big Debut

The magazine I mentioned in a previous post has gone to print and Shelby and I made the cover. The is a local Sacramento "mom's magazine" called KidAround Town. The magazine contacted me about doing a story on me and "How I Do It". They sent a wonderful photographer out to take pictures of the girls and I and they interviewed me for the article. You can read most of the article and see the cover picture as well as one of the pictures that is inside the magazine, just click

HERE

. This was a wonderful experience and I can only hope that what I had to say inspires someone else going through what I have been through. Also, as mentioned in the article, I attribute so much of my positive attitude and hope to the wonderful friends and family that have supported me throughout this journey with cancer. I have to say I believe everyone reading this post is a friend and has touched my life in someway so thank you, those friends and family members I am talking about are YOU!

Next up, the Sacramento Komen Race For The Cure, here's to another successful year of raising lots of money and having a good time. The walk is on May 12th and I am really looking forward to all the "Boobie Troopers" team members (old and new) having a wonderful time for such a wonderful cause.

Welcome to our blog. We are an average family of 4 dealing with life's struggles and living one day at a time. Thanks for visiting!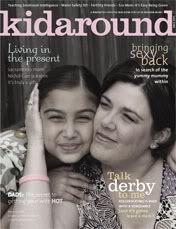 Breast Cancer Site
Cheeky Jewelry
Kevin Russell
Komen.org
Norcal Beagles