Monday, January 04, 2010
Neglect

Well I have been neglecting the blog...Honestly, although it is fun to write and keep people updated, I wasn't sure that anyone even read it anymore. So I have been slacking, and come to find out, people have still been checking it because I have heard about it and heard about my lack of posts. So New Years resolution, stay on top of the blog updates! Haaa....

Seriously though, we had a very nice Christmas and New Years. Shelby is quite excited because she got a laptop for Christmas however, I am finding that that may have not been the best idea/gift for our relationship as mother and daughter. I have so many fears about the internet and predators out there, and then she talked me into letting her have a Facebook just so she can go on 2 applications (Farmville and Yoville) but now I am regulating that, ohhhhh, what a bigger nag I have become. We did have a good talk yesterday and I assured her that I don't want to always be "on her" about the computer and that I am just trying to keep her safe so hopefully she knows that I am not the meanest mom in the world. Geezzzz, I sorta feel like it though....

Sydney asked Santa for an Ipod and he delivered so she is quite happy about that, 6 years old and already loves to listen to music, must be in her blood.

Vince and I rang in the new year home alone, no kids, he fell asleep around 10:30 and I managed to keep my eyes open until midnight with the help of Dick Clark's Rockin Eve that my favorite performer Chris Daughtry was on. If it were not for that I probably would have been sawing down the forest too. Thinking back on 2009 I have so much to be thankful for, I managed to stay "stable" with my cancer ALL YEAR and did not have to switch treatments, I am so thankful and happy about that. I will be having a scan next Tuesday but I am expecting nothing but good news. As a family we started to take more adventures and get out more. By purchasing our trailer we were able to camp 4 times I believe between June and October so that was a lot of fun. We are looking forward to spring and the weather warming up so we can get back to it and visit some of the campsites on our list of, "places we would like to go". We made it through another year of Vince working in the Bay Area and us living in Sacramento but I am thankful he has a good job with steady work and I am grateful for the 3 day weekends he gets every week. So although it isn't the most ideal situation, after almost 3 years of this we are pretty well adjusted and with the state of the economy and lack of jobs, I am very happy things appear to be stable for us.

So that's about all for now, here's to a great 2010 with lots of adventures, laughs, fun stories, and more Fun With The G's.

Welcome to our blog. We are an average family of 4 dealing with life's struggles and living one day at a time. Thanks for visiting!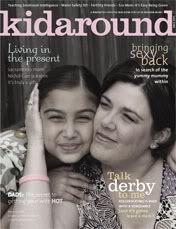 Breast Cancer Site
Cheeky Jewelry
Kevin Russell
Komen.org
Norcal Beagles